When your Ford car suddenly breaks down out of the blue, it can cause a bit of a nightmare. And when you take your Ford car to the mechanic and he tells you that replacement is needed for two or three parts, matters can go from bad to worse; particularly, if you aren't a car enthusiast and accustomed with the nuts and bolts of this trade. Due to this reason, we have put together this guideline for sourcing replacement parts for your Ford car. It covers – what Ford parts need to be bought brand new and what are the risks of buying second-hand parts to what you should seek in a spare parts dealer and the questions that you need to ask. When obtaining spare parts for your Ford car, these are the crucial things to consider.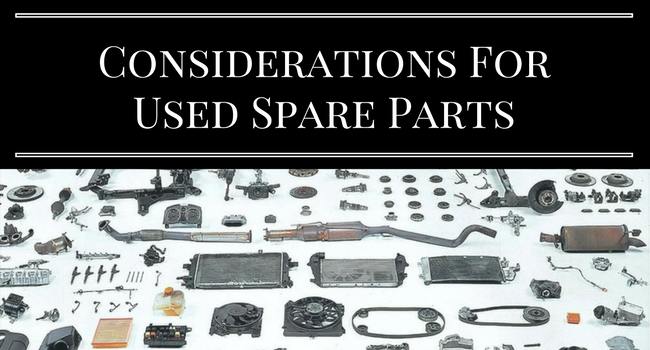 What are the nuts and bolts?
You'll require knowing a few things about your Ford car and the spare part you need when shopping for replacement auto parts. You should know the make, model and year of your Ford car, the VIN number, and also the part number if you have it. While speaking to FordPro Wreckers or another parts dealer, if you don't know this information, the team at FordPro Wreckers will be able to assist you in finding these details, so as to make search easier for finding your Ford car parts. As soon as we get the required information, the team at FordPro Wreckers will be able to source the specific part that you require. If we don't already have one in our stock, we'll source through private sales and car dealerships to insurance company auctions etc. to get the part you need. Once we've located your required spares, one of our qualified auto mechanics will clean, tune and test the part before installing it into your Ford car. You can be ensured that the replacement part has integrated with the engine rightly and that your Ford car is safe to drive before it has been delivered back to you.
When to source new and used Ford car parts?
Some of the Ford parts need to be replaced with newer parts. While all the parts of your Ford car will experience deterioration, there are some parts that would deteriorate much faster than others and can never be used as replacement parts for another Ford car for safety reasons. These parts include air bags, seat belts, electronic sensors that monitor system problems and some brake parts – parts that are generally associated with the safety of your Ford car. However, some of these parts can be bought second hand, but you should always verify with the dealer if the part comes with a warranty and background data. At FordPro Wreckers, one of our qualified auto mechanics will be able to assist you with this and speak to you concerning warranty of our Ford spare parts.
What are the advantages and risks involved?
Indeed, cars are expensive purchases and maintaining them is also expensive. When your Ford car breaks down, it can dent your pocket badly. This is the number one reason to source used Ford parts over the new parts. By sourcing your spare parts through FordPro Wreckers, we always make sure we're supplying reliable Ford parts that are best in quality and being second hand Ford parts, we can provide them at just a fraction of the cost compared to the new Ford parts. Certainly, this can save your hard earned money significantly. The second good thing is, as we move a huge amount of stock on a daily basis, we always have parts in our inventory eliminating the risk of running out of them, which means we can get your replacement Ford part in a day or two to you, depending upon your location. Buying second hand Ford parts will help you to save your valuable time and money because when ordering new Ford parts, you have to wait for weeks for the parts to be shipped in from overseas. Lastly, used Ford car parts serve eco-friendly purpose when chosen over new Ford car parts; approximately, 80% of a vehicle can be recycled for spare parts, which prevents those vehicle parts from ending up in a landfill.
From where can I get the spare parts?
For obvious reasons, the Internet is the best place to begin your search for spare parts. Nonetheless, be cautious because there are a lot of private sellers who also list used auto parts for sale, but often they don't have similar meticulous testing and benchmarking procedures as a dealer like FordPro Wreckers. In case, you're looking for hard-to-find or a one-off part or you're not sure of what you require then just give us a call and one of our experienced auto mechanics will be able to get the part you require as soon as possible. Although we're located in Sydney, we deliver Ford car parts across Australia, and because we ship a large number of products daily, we have the lowest delivery costs in the industry.
What should you look for in a spare parts dealer?
When searching for a reputed spare parts dealer – always investigate from where and how the dealer sources Ford spare parts. What processes are the parts subjected to, for cleaning and testing procedures? And whether they come with a warranty assurance? FordPro Wreckers sources auto spare parts from car dealers and private sales as well as reliable insurance company auctions, but all of our parts are subjected to the same stringent testing processes. Also, don't forget to ask whether the dealer can install the part for you or can deliver it to your local auto mechanic to perform the replacement fixes for your Ford car. At FordPro Wreckers, our qualified auto mechanic professionals install and test the part to ensure it is integrating correctly with your Ford car's engine before giving your keys back to you.
Thus, always do your research properly if you're in need of a spare part for your Ford car. You should know accurately what spare parts you need for your Ford car and make sure everything you buy has a guarantee. To get expert advice or to find the spare part you need for your Ford car, right away contact Fordpro Wreckers.